SPRS Score Tool Request
With the official DoD instructions to calculate SPRS scores, we have created a tool to allow you to calculate your score

quickly and easily.
Don't delay

- not only does having your SPRS score help you in your pursuit of DoD contracts but it also gives you valuable insight as to your overall security stance and where you should focus your efforts for improvement.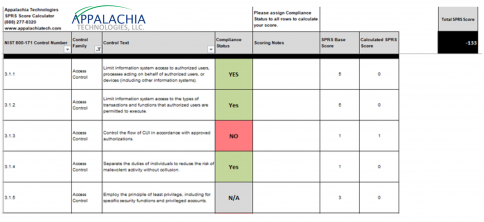 Sample View of Appalachia Technologies' SPRS Calculator
To receive the tool and quickly determine your SPRS score, submit your contact information and we will send it to you.