We're Proud to be Central PA's Leading IT and Cybersecurity Firm
Every day at Appalachia Technologies, our IT staff come together with a single goal. It's not just to solve complex IT issues. It's not just to provide around-the-clock cybersecurity monitoring. It's not just to prevent risks from happening on our client's networks. Yes, we do all of that, and we do it well, but our main drive is to own the client experience.
As an Appalachia Technologies client, we want you to feel enthusiastic about our partnership, from the moment we first engage, through the entire lifecycle of our services. And we want you to be confident your business is in the best possible hands.
---
We Ensure This by Hiring the Best IT Technicians, Engineers, and Cybersecurity Staff
Our engineers are rock stars. Our staff is highly certified and recognized in the IT community as thought leaders, and we foster an environment of skill-crossover and continuing education in order to scale and serve our clients better.
---
Appalachia Technologies is SOC 2, Type II Audited
SOC 2 audits are based on the AICPA's Trust Services Criteria. SOC 2 service auditor reports focus on a Service Organization's non-financial reporting controls as they relate to security, availability, processing integrity, confidentiality, and privacy of a system.
"Appalachia Technologies delivers trust-based services to their clients, and by communicating the results of this audit, their clients can be assured of their reliance on Appalachia Technologies' controls."
---
We Thrive in Complex IT Environments
As a services-only company, Appalachia's breadth and depth of technical expertise, combined with our vendor-neutral approach, allows us to work with most any business environment.
The "rip-and-replace" model that many managed service providers follow is an outdated approach that isn't always in the best interest of client.
We support businesses of all sizes, from small and medium-sized businesses to large enterprises.
---
Cybersecurity Comes First
Today, cybercriminals and online threats are one of the biggest risk-factors for virtually any business, regardless of their size. IT security is ingrained in our company culture, and our engineers treat cybersecurity very seriously. We have a team dedicated to cybersecurity that consists of highly certified individuals.
---
Awards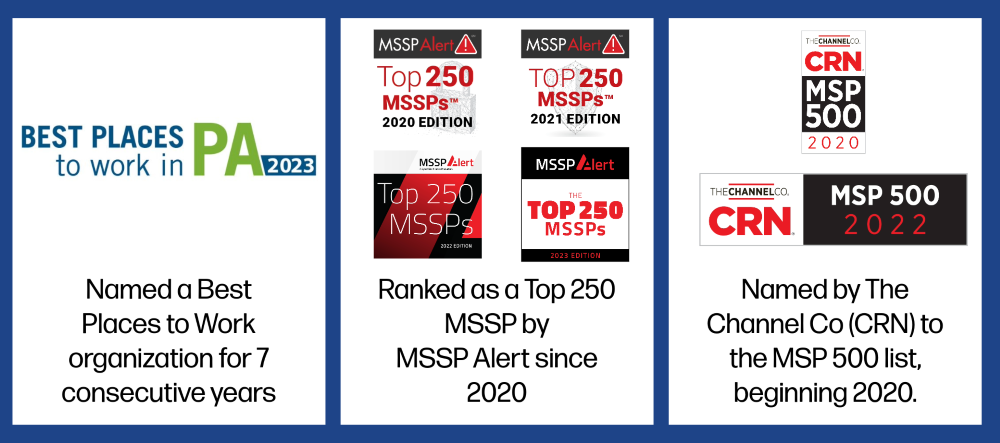 ---
Memberships