Data Center Strategy & Consulting
Empower Your Business through Mobility and Scalability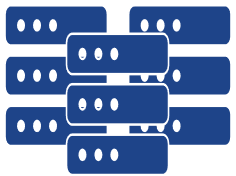 Cloud computing offers a massive range of capabilities that were once only reserved for businesses who were prepared to make costly, and sometimes risky investments. Purchasing high-end on-premise infrastructure to handle new software, add a new set of capabilities, or to otherwise innovate your solution stack is expensive; especially if there is a risk it might not be profitable.
The cloud reduces the risk by minimizing overhead. With the cloud, your business doesn't need to directly invest in the hardware, manage it, or remediate it. The cloud can also be used for agility, allowing for quick spin-ups and tear-downs of environments and is a great source for development test beds, and much more.
---
We are Central PA's Cloud Experts
Appalachia Technologies provides cloud consulting services, starting from planning your initial migration to the cloud, to scaling and transitioning to new data centers. We help organizations utilize the cloud to store and backup data, virtualize desktop and server environments, host line-of-business applications offsite, and process data that would otherwise be roadblocked by the expense of purchasing onsite hardware.
---
Let Us Handle Your Next Data Center Project
Whether you are looking to take your first step into cloud computing, or you need to scale, our highly-certified cloud experts can help coordinate and fulfill your next IT project. Our project engineers will work closely with your team to understand your exact requirements, design the solution, and implement.
Although our consulting services can address specific customers requirements, the value is maximized when our team gets involved early on in the process or provide improved design, reduced costs, and smooth project delivery. We can help evaluate and determine resources that are appropriate and best suited for cloud moves, help plan transitions, and also ensure that it is done with security in mind.
---
Let's get started on your next project! Give us a call at (888) 277-8320.